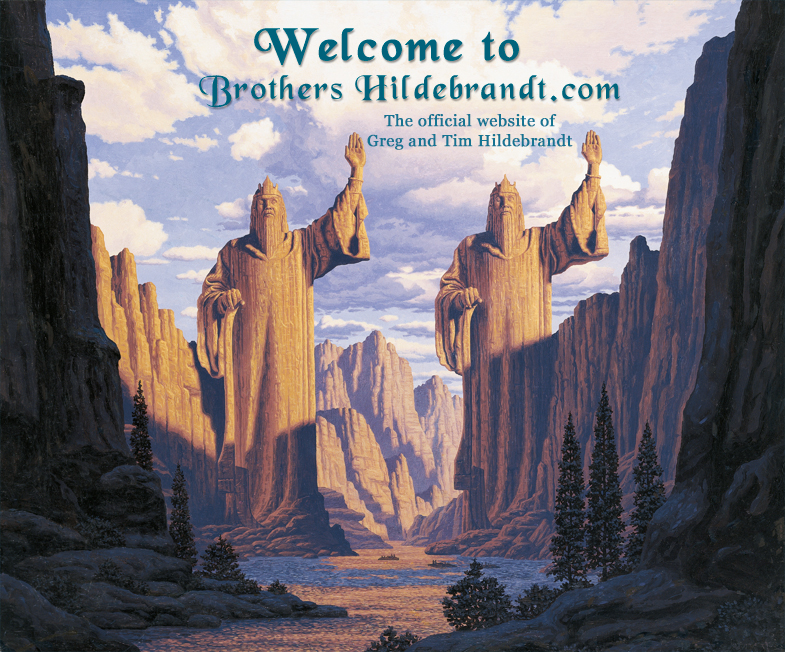 This is Greg and Tim Hildebrandt's official website.

Greg and Tim Hildebrandt better known to the illustration world as "The Brothers Hildebrandt" began their careers 1959. The Brothers have worked on documentary films and thousands of illustrations for, text books, children's books, calendars, book covers, posters, comic books, advertisements, movie posters, production design for films, collectables and trading card games.
They became internationally known for the original 1977 Star Wars: A New Hope movie poster and the 1976, 1977, and 1978 JRR Tolkien Lord of the Rings calendars. Since then Greg Hildebrandt and Tim Hildebrandt have received recognition from their fans in the genres of fantasy, science fiction, comic art, pinup art, western art, religious art, comic strip art, and sequential art. They are deeply grateful for all of their fans.
They have worked for Marvel Comics, DC Comics, almost every book publishing company, Franklin Mint, Batfilms and Lucas Films. They have also worked on the Collectable Card Games (CCG) for Magic: The Gathering and Harry Potter published by Wizards of the Coast.
Tim Hildebrandt passed away in 2006 due to complications from diabetes. He will forever be loved and missed by his family and his fans.
To read Greg and Tim's full bio or to purchase/view their art please visit:
www.SpiderWebArt.com
To visit Greg's American Beauties Pin-Up page please visit:
www.AmericanBeautiesArt.com